Special profiled polycristalline diamond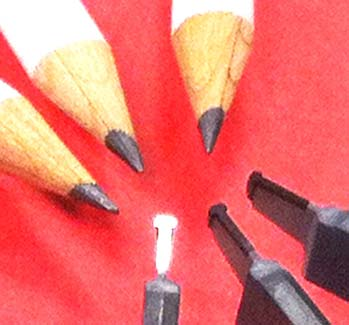 High precision machining
Even the most difficult materials such as graphite, glass fiber reinforced plastics (PTFE), high-risk delamination polycarbonate, and many others, can be worked advantageously using diamond polycrystalline inserts (PCD) sharped according to the most modern production techniques with LASER (Light Amplification by Stimulated Emission of Radiation)
As shown by this enlargement, realized in our metrological room, the dedicated inserts are of the highest precision and are perfectly executed in tolerances unthinkable with traditional processing. New applications and executions, the most varied due to the extreme versatility of technology, are required every day with the extreme satisfaction of our Customers.
The highlight in the 250 x enlargement shows a perfect radial cut of a CRM insert in polycrystalline diamond.
"DIFFERENT: per fare la differenza".Since more over 30 years C.R.M. di Mazzoccato Arturo & Figli s.r.l. from its only site in Fino Mornasco offers special tools, to better meet the needs of customers operating in chip removal machining in sectors where competitiveness is fundamental.
The effect of these special tools on production costs is shown in this visual scheme, or choose to experience it yourself, by filling out the Contact form to request more information or an offer.
"DIFFERENT: to make the difference".
We will answer as soon as possible.