Special inserts in PCD with profile a request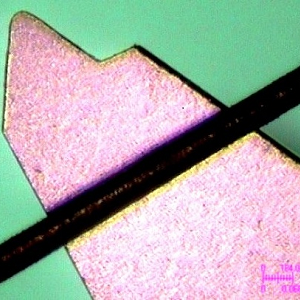 Invisible microthreads
Top level wristwatches branches. Precious metal threads are of primary importance.
The profiling of micro-inserts allows exceptional quality and durability of the cutting edge, with intuitive advantages. What level of precision?
Do you know what is the slim black line compared with the PCD tool profile? It is a human hair. The picture was taken in CRM Mazzoccatos' metrological room.
There are endless possibilities of application, with additional and dedicated profiles, depending on the individual needs of each single customer on each tool. Ask for a free offer.
"DIFFERENT: per fare la differenza".Since more over 30 years C.R.M. di Mazzoccato Arturo & Figli s.r.l. from its only site in Fino Mornasco offers special tools, to better meet the needs of customers operating in chip removal machining in sectors where competitiveness is fundamental.
The effect of these special tools on production costs is shown in this visual scheme, or choose to experience it yourself, by filling out the Contact form to request more information or an offer.
"DIFFERENT: to make the difference".
We will answer as soon as possible.