Machining in the railway industry
Special tangential milling cutter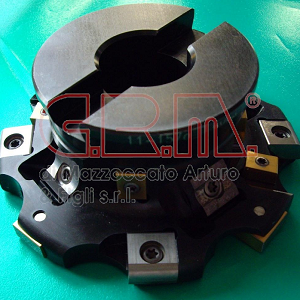 Machining in the railway industry
The length of the railway tracks and intersection points requires working on machine tools with a very long stroke. Particularly heavy (and expensive) in this field is to carry out more non-contemporaneous consequential operations, precisely for the length of the machined workpieces, which can also reach eighteen meters.
This special milling head for the railway industry has made it possible to perform the required profile in a single machine setting, reducing drastically the machining times, reaching a high precision in the cone.
The reliability of the process has had a dramatic improvement, which has led to higher execution quality and a satisfied, almost delighted, customer.
"DIFFERENT: per fare la differenza".Since more over 30 years C.R.M. di Mazzoccato Arturo & Figli s.r.l. from its only site in Fino Mornasco offers special tools, to better meet the needs of customers operating in chip removal machining in sectors where competitiveness is fundamental.
The effect of these special tools on production costs is shown in this visual scheme, or choose to experience it yourself, by filling out the Contact form to request more information or an offer.
"DIFFERENT: to make the difference".
We will answer as soon as possible.