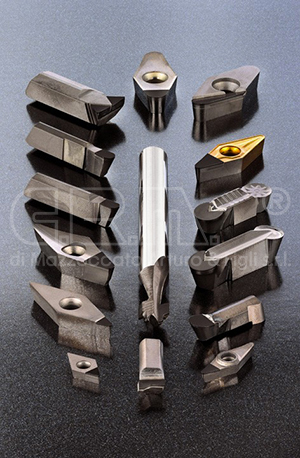 PCD-Tool life is extraordinary.
PCD inserts have a tool life ten times longer than solid carbide inserts. And the final surface quality on the machined piece is better. So, with success we suggest PCD – polycristalline Diamond – since years to our customer in order to increase productivity and quality in every machining process whenever is possible (after checking all process conditions). Particularly on No-ferrous-Materials.
Every indexable insert can be enriched with bespoke cutting edges in PCD Because it is almost possible to have every PCD shape that could be needed. In C.R.M. Mazzoccato s.r.l. there are no established "PCD insert programme", so on customer requirement it is almost possibile to prepare every shape of insert, with every shape of PCD that the customer may need for his machining processes.
The special shape will give the advantages of a special solution: know-how for the customer against off-the-shelf solutions, ready for use, however available for every company all over in the world. Even for the own competitors.
Not bad to have more competiveness in this tough times.
"DIFFERENT: per fare la differenza".Since more over 30 years C.R.M. di Mazzoccato Arturo & Figli s.r.l. from its only site in Fino Mornasco offers special tools, to better meet the needs of customers operating in chip removal machining in sectors where competitiveness is fundamental.
The effect of these special tools on production costs is shown in this visual scheme, or choose to experience it yourself, by filling out the Contact form to request more information or an offer.
"DIFFERENT: to make the difference".
We will answer as soon as possible.