Special PCD profiled mill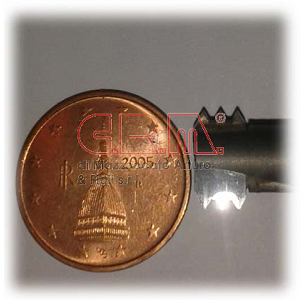 Microthread with a special mill with PCD cutting edge
The shiny profile is made of PCD polycrystalline diamond, profiled to measure.
This finish is made possible by advanced laser technology that allows
customized shapes of diamond cutting profiles
to be designed for any requirement. The width of the teeth, the inclination of the teeth and the three-dimensionality of the cutting edge are all variables that can be decided on the basis of the actual needs of the cycle in which our customer is interested. With these cutters, a perfect profile is obtained with a high precision of the executed thread. The diamond profile has a
longer life
, which reduces set-up costs and avoids the frequent replacement of tools, which have a much longer life than comparable carbide cutters. Finally, the quality and repeatability of the finish is improved: up to 30,000 thread passes can be made before resharpening is required. Yes, we can also
resharpen
the cutting edge with the same technology to continue using the same tool.
"DIFFERENT: per fare la differenza".Since more over 30 years C.R.M. di Mazzoccato Arturo & Figli s.r.l. from its only site in Fino Mornasco offers special tools, to better meet the needs of customers operating in chip removal machining in sectors where competitiveness is fundamental.
The effect of these special tools on production costs is shown in this visual scheme, or choose to experience it yourself, by filling out the Contact form to request more information or an offer.
"DIFFERENT: to make the difference".
We will answer as soon as possible.