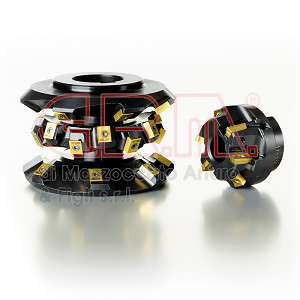 Special pack cutters
This type of cutter realizes in a single pass, on a three-axis machine, the contemporary roughing of four planes of a profile intended for the support of a rectified cylindrical guide, on a cast iron block used for the construction of a big machine tool.
The product thus conceived allows the customer an evident and considerable cost saving, avoiding the execution of the processing in four passes, using four different cutters, or the use of a five-axis machine tool.
The execution of the special cutter in three modular parts allows flexibility in the management of any requests for profile changes.
The tangential plates give reliability in the processing (12 meters long), guarantee the constancy of the profile and an excellent repeatability of execution.
"DIFFERENT: per fare la differenza".Since more over 30 years C.R.M. di Mazzoccato Arturo & Figli s.r.l. from its only site in Fino Mornasco offers special tools, to better meet the needs of customers operating in chip removal machining in sectors where competitiveness is fundamental.
The effect of these special tools on production costs is shown in this visual scheme, or choose to experience it yourself, by filling out the Contact form to request more information or an offer.
"DIFFERENT: to make the difference".
We will answer as soon as possible.