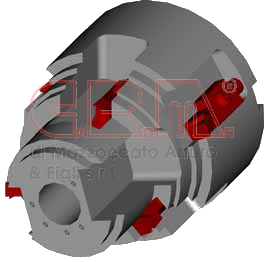 Pump machining: the four-step project
This special spindle developed in C.R.M. Mazzoccato reduces the required number of tools and the global processing time (through less set-up). Applying polycrystalline diamond reduces also the cost per part of tooling in production, guarantees precision of concentricity and repeatability of the machined diameters. The special spindle can adopt molded or special inserts to also reduce the number of cartridges and is a modular tool that can be adapted to similar machining.
The four-step project
As a subcontractor of an important car company, the customer needed to work industrial vehicle pump bodies having a medium hole (about 100 mm for 80 mm in depth) and a series of decreasing diameters and relative smooth.
Features that made complicated the realization of the cycle that required a series of consecutive borings with very long machine times, considered unsatisfactory by the buyer.
We have developed and produced two boring bars multi – purpose cartridges: the first for roughing and the second for the finishing of two diameters, that had a very tight execution tolerance, in constant collaboration with the customer 's technicians, using standard cartridges.
The 3D design system has allow to design the more complicated spindle condensing the most difficult operations on it, leaving the finisher only the calibration task of the two most accurate diameters, as the presence of broken cutting sections conditioned the cylindricality.
We expected:

Coolant fluid injecting from inside the tool to facilitate evacuation of large volumes of shavings and cooling sharp edges.
using special inserts developed ad hoc have been grouped executions of diameters and smooth.
inserts with polycrystalline supports have been reduced change insert times and basic quota registration.

Through this project, the geometric tolerances and concentricities required by the customer have been achieved maintaining a very strong production tolerance with the use of a single horizontal work center.
"DIFFERENT: per fare la differenza".Since more over 30 years C.R.M. di Mazzoccato Arturo & Figli s.r.l. from its only site in Fino Mornasco offers special tools, to better meet the needs of customers operating in chip removal machining in sectors where competitiveness is fundamental.
The effect of these special tools on production costs is shown in this visual scheme, or choose to experience it yourself, by filling out the Contact form to request more information or an offer.
"DIFFERENT: to make the difference".
We will answer as soon as possible.