Sculpturation of surfaces
Special tools in PCD with profile on request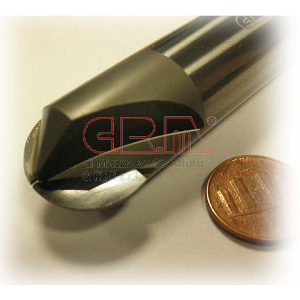 Boring and turning on gaskets
Can the high cutting length avoid the stops of the machine tool to replace tools in a complex machining that requires a perfect quality of surfaces? Yes, if it is a special developed PCD tool.
Polycarbonate delamination is a problem that many manufacturers of Design objects in this material know very well.
Polycarbonate processing also poses another problem: the sharp wear of the sharp metal of the normal hard metal tools that are mostly used in this process.
The solution engineered by C.R.M. Mazzoccato for this customer was to use a special cut-to-measure polycrystalline diamond cutting edge: the 180x controlled tool profile, perfect in its straightness, has been able to perform all the workings on the workpiece, so it was only produced in one setting of the machine tool .
Additional results were a significant reduction in costs and a better surface quality on the finished product. This sharpened polycrystalline diamond allows the machining of very delicate design objects, the solution to surface machining problems, avoids the costly and potentially dangerous repetition of machined pieces and to work in a single grip.
Special tools like this help increase the Customers competitiveness by increasing the final customer's satisfaction. They can be tailor-made to meet specific needs.
"DIFFERENT: per fare la differenza".Since more over 30 years C.R.M. di Mazzoccato Arturo & Figli s.r.l. from its only site in Fino Mornasco offers special tools, to better meet the needs of customers operating in chip removal machining in sectors where competitiveness is fundamental.
The effect of these special tools on production costs is shown in this visual scheme, or choose to experience it yourself, by filling out the Contact form to request more information or an offer.
"DIFFERENT: to make the difference".
We will answer as soon as possible.